Raising puppies can be an exhausting venture.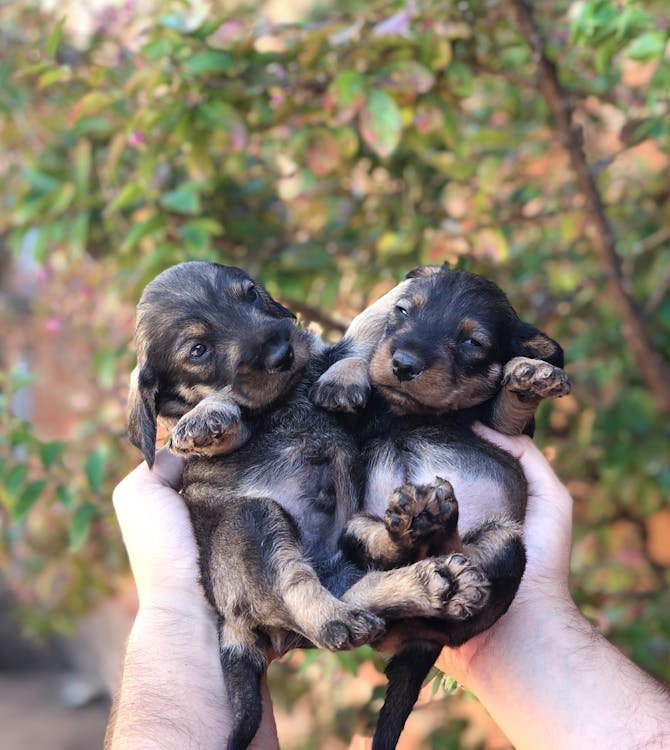 Especially when the puppies that you are raising came from a dog that you didn't even know existed before you started raising them.
When Thom learned that a couple had found Ruby giving birth to puppies during a hike, he decided that he would take them in.
Not surprisingly, Ruby was very shy when Thom first brought her home.
Even so, he decked-out his house to be extra dog and puppy friendly so that Ruby would feel loved right away.
Although she may have been sceptical of the situation, it probably seemed like a safer place to raise puppies than down by the river where she was found.
So she accepted Thom's gifts but was sure to stay wary of him.
During the first few days of their lives, the puppies did little more than sleep and eat.
Ruby was always there to make sure that they received all the milk that they needed and she cautiously accepted Thom's pets as he tried to win her over.
As the days turned into weeks, the puppies opened their eyes and began to run around the house, playing with anything and everything.
Even Ruby joined in on the fun from time to time and she was clearly starting to warm up to Thom.
She could see that he was just as interested in raising the pups as she was and she was happy for the help.
Eventually, playtime in the house turned into walks around the block with a wagon full of puppies and Ruby walking by its side.
They would finish their walks with playtime in the backyard–something that Ruby really enjoyed.
Once the puppies were finally old enough to be adopted, they all found great homes.
One puppy went just a few blocks away, one puppy went to a nice little girl and her mom, and the last puppy went right next door.
And the neighbors want their puppy to have the happiest life possible.
So they turned the fence that divides to the two yards into a swinging gate so that Ruby and her puppy can see each other as often as they like.
As for Ruby, well she was adopted, too.
But she's not going anywhere because the person who adopted her was Thom.
After all those months of hard work raising puppies together, Thom decided that he couldn't just send Ruby to live with some other family.
Plus he'd grown quite fond of the stray, and she had grown quite fond of him as well.
Long gone are the days when she would scoot away from Thom's pets, nervous and untrusting.
Now she doesn't leave his side and goes everywhere that he does.
It's great to know that there are good people out there who are willing to take on the responsibility that they could otherwise neglect.
Had Thom just walked away from Ruby the day that she was found, who knows what would have happened to her and her puppies.
Thanks to Thom, Ruby and her puppies are safe and happy and they will all grow up to live awesome lives with their new owners.
Please SHARE this with your friends and family.
---
Shareably
Join your friends or be the first to like our page
---